Washington County Master Gardener: 4TH ANNUAL TOMATO TASTING
What

Fun!
Learning
Gardening Techniques and Growing

When
Sep 24, 2013


from

10:00 am

to

12:00 pm
Where

Washington County Fair Complex Demonstration Garden- Hillsboro,OR

Add event to calendar

vCal




iCal
Washington County Master Gardener™
4TH ANNUAL TOMATO TASTING
Tuesday, September 24, 2013
10 am — Noon
Just show up — No cost and no registration required!
Washington County Fair Complex Demonstration Garden
882 NE 28th Ave. (Cloverleaf Entrance on the west side), Hillsboro, OR
Do you want to taste tomato varieties before you "spend" the garden space to grow them?
Do you want to enter and vote for your favorite tasty tomato varieties?
Please come and taste heirloom, old standards and new varieties of tomatoes at the Washington County Master Gardener Demonstration Garden at the Fair Complex. Participate in the judging and vote for your favorite tomato.
Those wanting to share their own tomatoes are welcome to bring three or four samples of your favorite variety. Make sure they are labeled, washed and ready to slice. Any remaining tomatoes will be donated to the local food bank.
You are also welcome to tour the demonstration garden and see interesting plants, ways to conserve space in your garden, how to attract bees to your garden and visit with fellow gardeners. We hope to see you and share this wonderful community resource garden.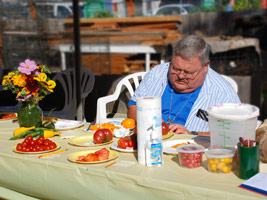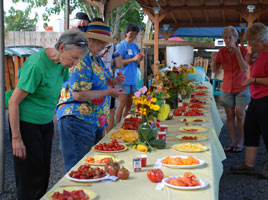 See more at: http://www.metromastergardeners.org/washington/washtomato.php#sthash.terVDZ8D.dpuf
Document Actions